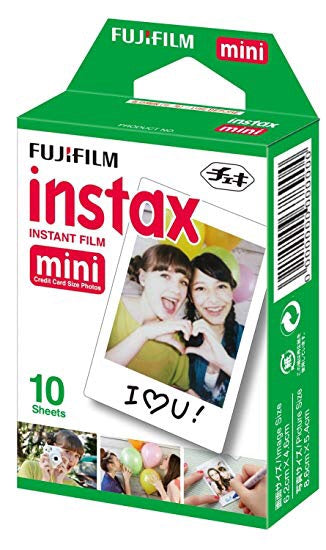 Fujifilm Mini Film (Instant print)
---
Overview
Extra film shots
Pack of 10 film shots for Fujifilm Instax camera.
Specifications
Fujifilm mini film for use in Instax instant cameras. Pack of 10
Security Deposit
Our deposit scheme provides protection for both you and us against loss and damage of any equipment. You pay between £100 and £200 as a security deposit and on safe return of the equipment, provided there are no damages, it is refunded.
All security deposits will be refunded within 7 days of receiving the equipment back. (Please note this does not include any card transaction processing time).
More details of how it works can be found here
Delivery & Returns
Your package will be delivered to your specified delivery address via an express delivery returns service on or before your selected delivery date. Please make sure that someone is available to receive the package on the day. Please note we can only deliver to addresses in the UK (additional charges may apply outside mainland UK).
To return the package simply wrap the case back in the bubble wrap, place into the returns packaging provided and drop off the package at your local Post Office before your return date. Your return date will be calculated when you place your order and will be on your instructions with the equipment. (If your return date falls on a weekend or a bank holiday please return on the next working day).
Once we've received the equipment, if there are no missing or damaged items we will refund your security deposit within 7 days. Your photos & videos will be transferred onto a USB memory stick and returned to you within 14 days.
If you require more than a 7 day hire please choose a different package or contact us.
Condition Check
As soon as we've received the equipment back we'll conduct a condition check to ensure that there are no damages or missing items. If there are some signs of damage or any of the equipment is missing we will send a condition report detailing the findings and what costs will be associated with replacing or repair of those items, prior to refunding any deposit.